Danil Kucherenko (1983 - 2014)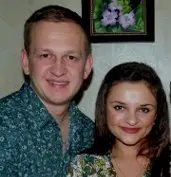 Jan. 14, 2014 my best friend, Danil Kucherenko, died at home from a blood clot after an automobile crash.
His death deeply saddened hundreds of people who knew him. His passing will never be fully accepted by us. He was a truly generous, irreplaceable soul.
His opening repertoire accurately characterized him: King's gambit and Sicilian Dragon. Romantic, optimistic, courageous. A fighter throughout his life! Never bypassed difficulties and never left his friends in trying times. He was a competent medical doctor and his consults are still cherished.
His personal charisma gathered people in a single focal point: friend Danik. And now almost all of us are friends to each other.
His chess students loved him because he was able to find the meaningful insights for everyone. He loved life and often repeated: "Don't focus on the bad things. There are many bad things around – think about positive moments." You were absolutely right, my friend.
Thank you so much, Danik, that you were in my life and the life of my family! We will always remember you and your Natalochka.
-Valeriy Aveskulov read more...